Today, our 'My Favourite Hotel' review is from Sri Lanka.

We are currently running this reader-written feature to provide some positivity and inspiration to Head for Points.  You can find all of the 'My Favourite Hotel' reviews so far by clicking here.  This was scheduled to be a series of about 25 hotels, but a good response from readers means that we have commissioned another batch and are continuing the series.
Today's hotel is the Weligama Bay Marriott Resort and Spa in Sri Lanka.  It's reader Yasmin's favourite hotel and here is her review:
Overview
Weligama Bay Marriott Resort and Spa is not your typical resort style hotel. With its 11-floor imposing façade, more akin to something you would expect to see in a city, it stands out amongst its neighbouring buildings and coconut trees. This does not detract from its interior though, comprising of stylish, modern rooms and suites, all south westerly facing with a private balcony offering striking ocean views of Weligama Bay.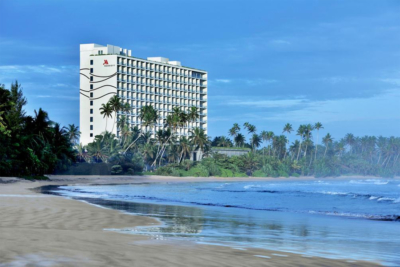 The beach is a surfer's paradise, with friendly waves making conditions ideal for beginners.  Countless surf schools and instructors offer affordable lessons.
The resort is perfectly situated for anyone wanting to explore the Sri Lankan southern coast as Galle is easily accessible by train and Mirissa, renown for whale watching, is only 30 minutes away on tuk tuk. Access to Colombo International airport is also fairly convenient, taking just over two hours by car via the Southern Express Highway.
Rooms
As Gold Elite members we booked a Superior Ocean View room at 70,000 points for four nights (at the time of booking it was a Category 3 hotel and it is now a Category 4) which meant we were offered the fifth night free. Considering these rooms at the time had a rate of $300 a night, this was quite a bargain – we ended up getting over 2 cents per Bonvoy point, which is 3x the standard Head for Points valuation of 0.5p!
As a Category 4, you will now pay either 20,000, 25,000 or 30,000 Marriott Bonvoy points per night depending on whether it is an off-peak, standard or peak night.
Upon check in at Weligama Bay we were upgraded to an Ocean Vista Room located on floor 9. It is worth noting that all rooms are pretty much identical in design and layout and the price varies mildly based on how high you sleep (unless you opt for a suite which would be more extravagant).
The room design is sleek and contemporary but cleverly blends traditional Sri Lankan design features such as lace wood panel stencilling to provide those key cultural nuances.
Each room has a large king size bed and an open grey marble bathroom with separate shower and toilet. Sliding doors expose the bathtub to both sea views and the large TV, making the room feel even more spacious.

One of my favourite experiences in the hotel has to be the selection of Sri Lankan animal towel creations I was presented with every day after my husband mentioned to housekeeping, I was fond of towel art!
Food and Drink
We were pleasantly surprised that as Gold Elite members of Marriott Bonvoy we received free breakfast during our stay as well as 20% off food in all their restaurants. With this perk we ended up eating all of our meals in the resort.
Breakfast was buffet style in the main dining restaurant Weligama Kitchen which had a lovely outdoor seating section on pool level.  The food was of high quality and plentiful with made to order Continental, Sri Lankan, Thai and Indian options available.
The service was always outstanding, I particularly liked that the spa manager and head chefs would stop by and check in with guests. Although we did not use this service, on check in we had a personal introduction from one of the resort's head chefs who was more than happy to cater to any dietary requirements and/or create any bespoke meals-a great benefit for families with children or fussy eaters!
The Big Fish restaurant is a more intimate affair and open just for dinner only serving fresh local fish and seafood. Tides Bar located on the mezzanine is perfect for evening cocktails as well as afternoon tea and small bites.
Amenities and Service
With a full five days in Weligama Bay, and as a restless individual who likes to be on the move, I thought spending all our time in the resort would get boring. I can safely say this was not the case. Aside from one day where we caught the local train to visit Galle, we maximised on all the hotel's facilities!
The asymmetric pool is surrounded with loungers – it is worth noting the loungers get snapped up pretty fast and are hard to come by in the afternoon. Friendly staff are always on hand serving food and drinks from Surf's Up Pool and Beach Bar.
We enjoyed a nourishing complimentary morning yoga class and took full advantage of the exclusive Quan Spa.  I indulged in a 2.5-hour luxurious full body massage, relaxing facial and full body scrub for a fraction of the price of what you would pay in the UK.
There is a fully equipped 24-hour fitness centre with personal trainers, however the beach and beginner friendly surf waves are enough to keep everyone healthy and entertained.
Whilst I cannot comment on the efficacy of the facilities for children, they appeared to be well catered for with their own small pool with slide and kids' club.
Weligama Bay is also equipped to host weddings as we witnessed. The manicured lawn overlooking the beach was set up for the ceremony and a marquee installed for the wedding reception. The assembly and dismantle was also very seamless and did not compromise the guest experience. They even delivered cake to our room for the noise and inconvenience this may have caused!
There is rooftop access, however the space has not been utilised and is vacant. I imagine that there would be plans to convert it, perhaps into a rooftop bar or penthouse suite but at present it is a wasted opportunity.
Conclusion
Would I go back to Marriott Weligama Bay Resort? In a heartbeat! The resort is the perfect retreat for families, couples, aspiring surfers and solo travellers after a bit of luxury at decent value (if you go with points!)
However, outside of the beach and resort itself you will need to venture out further to Mirissa or other beach towns for activities. Even so, Weligama Bay Resort is the epitome of Sri Lankan hospitality and service with delicious food, unparalleled views, deluxe living and a fantastic base from which to explore the southern coast of Sri Lanka.
If you want to find out more, the resort's website is here.