"A little surprise at your doorstep when we are feeling disconnected from everyone else and our normal routine is a reminder that we aren't alone in this," says Kindful co-founder Nairi Atamian.
Melbourne-based Just Surprise Me celebrates local providores – including Melbourne Rooftop honey, Everleigh Bottling Co cocktails, and Bramble and Hedge nougat – in boxes starting at $33. Kindful boxes start at $100; APMU start at $75; JSM start at $33.
For the mate who resolved to craft more in distanced times
If your lockdown resolution was to write more, The Paper Club's stationery subscription box could be the answer. The service launched in June and features stationery designed by Sydney's Candle Bark Creations. "A little note or greeting card in the letter box means so much," says The Paper Club's Ileah Johnson. "It can change your day." For every box sold, one dollar is donated to OzHarvest. Starting at $19.95 for one month.
Crockd, a Gold Coast-based clay delivery service, make at-home pottery easy, encouraging play for the sake of play. "We've seen a huge uptick in the amount of kits being sent as 'gifts' over the past couple of months," says co-founder Rosa-Clare Willis. Each kit comes with a set of "clay breakers": prompts for engaging conversations about mental health. Starting at $80 for 1-2 people.
For the person who wants to feel more grounded
Soul Bundles was founded on the premise of enabling people to "nourish the mind, body and soul", and founder Sarah Wallace has seen demand for her bundles rise. "It is so lovely to know there are [people] out there keeping an eye on their loved ones and providing comfort to them even if they are in a completely different city or state," she says. Bundles – themed Rejuvenate, Restore, Uplift, Energise – feature aromatherapic air sprays, clay masks or dried flowers. Starting at $59.
Melbourne-based Curated with a Conscience has also seen a "dramatic increase" in orders for their Australian-made, socially conscious boxes. 3 per cent of sales revenue goes back into social impact charities, making receiving soy-wax candles, Indigiearth bush tomato chutney, Little Wilding Co teas, Stone & Wood beer and Ena hand lotion even better. "The post is our lifeline for breaking the social isolation in a safe way," says founder Michelle Smith. Starting at $55.
For the friend you can't have tea with right now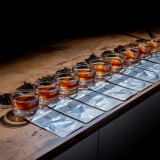 Hobart's NovelTea Book Club combines two perfect COVID-19 pastimes: tea drinking and book reading. "Each NovelTea parcel is designed to be everything you need for a cosy afternoon on the couch," says founder Angie Reader. Subscriptions include a book, tea samples, stationery and a bookmark. Starting at $16 a month for 6 months.
The Australian Tea Masters have a variety of tea subscriptions, sending high-quality rare, chai or herbal teas for between $20-$25 a month, while Sydney's Rabbit Hole Organic Tea subscription features a monthly canister of tea, such as White Delight (white tea with coconut and raspberries).