Architect's description
Port Moresby, the capital of Papua New Guinea, has an urban housing crisis stemming from high migration of people from rural areas to the city. In order for new communities to thrive, attendant social and economic infrastructure services need to be introduced. This project focuses on the environmental and social sustainability of the area in providing crucial services.
The site is near two villages and nearby settlements that urgently require new service infrastructure such as informal markets, farmers' gardens and a community learning hub, which is already planned within a new urbanization policy. A series of low-tech building techniques are implemented over a number of construction stages. Terracing the hill slope prepares the site for imminent development. Retaining walls use gabion construction techniques and stones from cut-and-fill excavations. Stormwater management is used to recycle rainwater and grey water. Hit-and-miss concrete blockwork walls, a construction technique used within local building practice, allow for flexibility of building time versus available funds over an extended period, with a porous surface for much-needed cross-ventilation in this hot climate. As the kitchen and bathroom facilities are the most expensive investment for residents, prefabricated service pods are constructed by local industry workshops for efficiency and better quality control.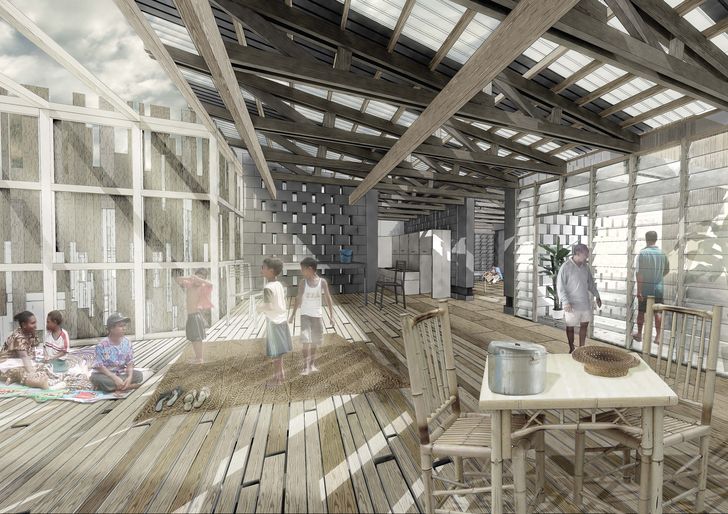 Papua New Guinea was once governed by Australia, until independence in 1975. This relationship has generated architectural enquiry into the role of an Australian architect in PNG. As with many post-colonial countries, the recent social and economic impact of Australia's part in the governing of PNG has resulted in traditional territories being pressured by the influences of developed countries. This has intensified the urban housing crisis in Port Moresby. My overall research question for this project has been: How can architecture contribute to the development of a framework for the provision of sustainable low-income housing and its attendant social and economic infrastructure in Papua New Guinea? This project begins to explore the complex cultural overlap between Australia and PNG and demonstrates that there are opportunities for exchange of architectural ideas and enquiry into new sustainable and economical low-income housing typologies.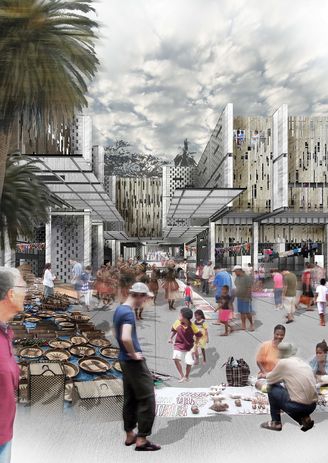 Jury citation
This project is an inspirational proposal for addressing the current housing crisis in Port Moresby, New Guinea. Faced with a growing urban population as a consequence of people migrating from rural areas into the city, the local government has developed an urbanization policy that recognizes the necessity of integrated social and economic infrastructure within any physical housing solution. Located between an established urban village and an informal settlement, this project explores several approaches to low-income, sustainable housing in this charged context. The project utilizes a range of low-tech local building practices to achieve an effective social and environmental outcome. These techniques are combined with off-site manufacturing of service pods, the production of which also facilitates employment opportunities. A range of simple architectural armatures create self-build opportunities and accommodate various housing functions, from short-term accommodation of migrants moving into the city to permanent residences and accommodation for volunteers and eco-tourists.
Sympathetic to its climatic and social context, the architecture is skilfully integrated within its landscape and open-space condition to also provide informal markets, community gardens and a learning hub. This beautifully rendered project demonstrates the contributory possibilities of architecture when critically entwined with its community.
Related topics