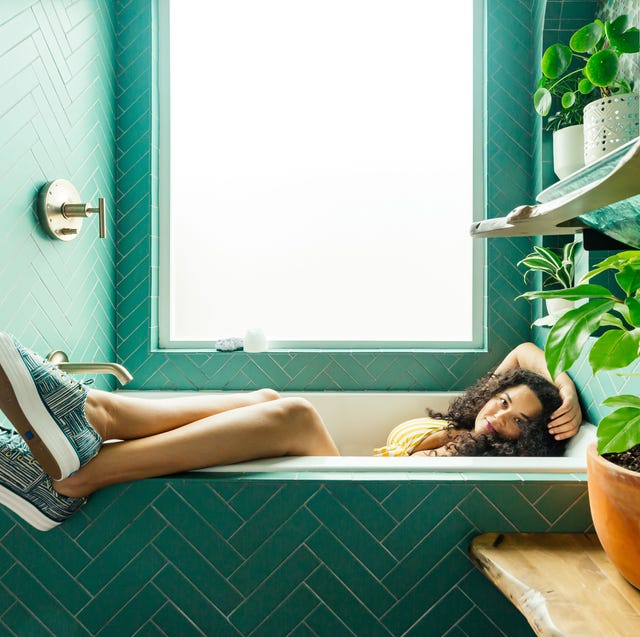 Courtesy
Interior designer and artist Justina Blakeney is known for her vibrant, bohemian approach to interior décor. Her company, The Jungalow, is a one-stop destination for colourful, lively homewares with a folkloric edge – from handcrafted ceramics to embroidered mood-boosting cushions – while her book series offers practical, accessible advice on how to create a similar creative aesthetic at home.
Blakeney bought her LA home five years ago, after falling in love with its surrounding greenery and its Spanish-meets-California architecture. The three-bedroom bungalow that she shares with her husband and son is a delicious homage to her vibrant and uplifting brand aesthetic, influenced by her time spent living in Italy, as well as travels to Morocco, Turkey, India and Mexico.
"My aim was and is for our home to be relaxing but also energising, a place to make art, have fun, and entertain," she says. "I never had a specific goal of how I wanted it to look – it's always been more about the feel and surrounding myself with things and colours, shapes, textures and plants that make me happy. I also am continually inspired by artists and designers like Frida Kahlo, Solange, Alexander Girard, Emma Amos and Yves Saint Laurent."
If she could impart one piece of interiors advice, it would be this: "Bring the outdoors in as much as possible into your living space. Fresh air, sunlight, and plants go such a long way to create a beautiful, healthy home."
Here, Blakeney takes us inside her beautiful bungalow.
Advertisement – Continue Reading Below
1
The living room
"Our living area is the perfect spot to curl up and read a book in. My favourite element is the built-in shelving that gives our small home plenty of storage and display space for my collections of books and art."
2
The living room
"This is my favourite vintage chest of drawers. I keep art supplies and things tucked inside."
3
The bar
"This is the wet bar area in our 'Casita', our converted garage. I love the hexagon tile featuring egrets. I designed them for Granada Tile. The space was inspired by the Los Angeles river, which we live one block from."
5
The laundry room
"Our laundry room makes doing laundry more fun. My favourite feature is the wallpaper – my watercolour art translated into this 'Tigris' motif."
6
The garden
"Our backyard patio was inspired by California sunsets. We love dining outdoors, so we eat out here all the time. My favourite part is the large Tetrapanex plant that provides shade and a lush feeling to the space."
7
The bedroom
"I love the reclaimed French doors in my bedroom; they create a great flow between the indoors and outdoors and make the whole room dreamy and breezy."
8
The ensuite shower
"My favourite detail is the Fireclay tile… Can you tell I like tiles? The inspiration for this space was Lake Tahoe."
9
The bathroom
"The inspiration for this bathroom was Moroccan Riad meets Tulum. I love the glass sink (Kohler) and the Fireclay Tile. "
This content is created and maintained by a third party, and imported onto this page to help users provide their email addresses. You may be able to find more information about this and similar content at piano.io
This commenting section is created and maintained by a third party, and imported onto this page. You may be able to find more information on their web site.
Advertisement – Continue Reading Below