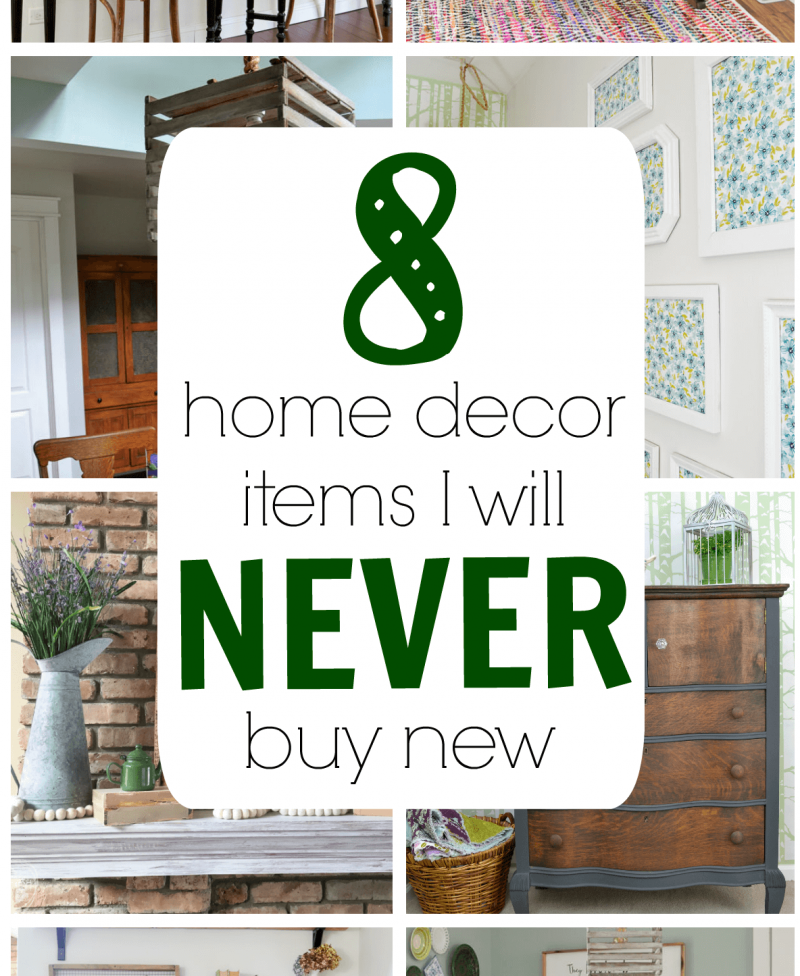 Before reading this post, you should know something about me.  I love decorating our home, but I do not love spending a lot of money.  I dislike spending money so much, in fact, that you could probably call me cheap. I prefer to consider myself thrifty, and I've found that it really is possible to create a beautiful home without spending a lot of money.
Readers have been asking me to share some of my tips for shopping and decorating on a budget, so I started looking around my home for budget-decorating trends. As I did, I realized that there are some items for my home that I never buy new anymore.  Now, it took me awhile to figure these tricks out and, I'll admit, I wasted a pretty penny on purchasing items for my home before I learned I could actually buy nicer pieces for less money.
8 Home Decor Items to Buy Second Hand
Dressers
The phrase, "they don't make them like they used to" certainly applies to dressers. I made the mistake of buying a new dresser when I moved into my first place, and it was falling apart after 5 years. It wasn't even an extremely cheap one or anything, but a lot of furniture made these days just isn't made to last. I learned my lesson, and now I don't have a single dresser in my home that I've purchased new; they are all vintage pieces that I've painted or refinished.
Personally, I'd rather purchase a dresser that's survived 50 years of daily use and still standing strong rather than purchasing anything new. Plus, vintage dressers are beautiful, and available in so many different styles to suit your design aesthetic.
What to look for:
Dovetail drawers (front drawer panels are joined to the side panels with joints, rather than just glued or nailed together)
Solid wood (Most vintage dressers are made from solid wood. Even if they have a veneer finish, the wood underneath is usually some form of wood.)
Veneer in good shape (avoid peeling or split veneer if you're just starting out in furniture refinishing.  There are definitely ways to easily fix it, but to start off, I'd recommend waiting to find a piece with in-tact veneer.)
How much to expect to pay:
I find beautiful, solid dressers for as little as $5. Generally, I don't ever pay more than $50 for gorgeous vintage and antique dressers, but you'll definitely see people selling them on Craigslist for hundreds. Of course, the price is completely dependent on the type of piece you are looking for and the amount of work you're willing to put into it.
Where to find them:
My favorite places to shop for vintage furniture is estate sales. On the last day of the sale, the company running the sale is usually willing to negotiate to get rid of those big pieces. On the last day of the sale, I will never pay more than 50% off the price orginally listed by the company. Even then, sometimes those prices are spiked up so high that 50% off that price is still too high (in my thrifty opinion, at least). I've purchased furniture at estate sales on the last day for as much as 80% off that original price listed. Dressers in the basement of an estate sale are almost always priced much lower than pieces on the main floors of the home, but often, there is nothing wrong with them (besides perhaps a layer of dust)!
I also find great prices at garage sales for furniture, and every once in awhile, I'll find a piece priced well at thrift stores, too.
Picture Frames
Picture frames are so versatile when it comes to decorating your home. They can, of course, be used as picture frames, but I've also seen them used as decorative trays, mantel decor, shadow frames, herb dryers, chalk boards, towel racks – the list could go on forever.
I generally use second hand picture frames for their intended purpose, but I usually paint them to work with my decor.
What to look for:
Wood frames (not plastic or MDF made to look like wood)
Solid construction (doesn't wiggle or flex when the glass is removed)
How much to expect to pay:
Garage sales and estate sales are the best places to find cheap frames. I've found large 11″ x 14″ for as little as $0.50 each. Lately, I've noticed thrift stores are hiking up their prices on frames. I expect to pay anywhere from $1.50 – $7.00 for frames if I purchase them at thrift stores around my home in the Chicagoland area.
Vases
I kick myself every time I think about the glass vases and pitchers I purchased new to use for flowers or holding other decorative items. You are bound to find tons of options of vases at any second-hand store.
What to look for:
Of course, no cracks or chips
Buy the pieces that you love!
How much to expect to pay:
Prices in this category range quite a bit depending on what you are looking for.
Tables
I basically should copy and paste the information from the dressers category into this one. Vintage tables can be made beautiful again with a little elbow grease, stain, and paint and cost significantly less than purchasing a new table.
I purchased and refinished our dining room table and spent less than $30 on it. I'll take a sturdy, solid wood dining table with two removable leaves for $30 any day.
What to look for:
Solid wood
Top of table is in decent shape
How much to expect to pay:
I've seen and purchased wood tables for as little as $15, but often I see them priced between $50 and $250 (often with the dining chairs). I don't see large dining tables as often at garage sales, but they are all over Craigslist.
Where to find them:
Estate sales are a great place to find dining tables, as most households have at least one dining table in their home! The downfall for shopping at estate sales for tables is they often are trying to sell the table with the chairs. Now, this is great if you'd like a complete set, but if you just need the table, you should at least ask if you can purchase just the table.  If not, it's pretty easy to resell a set of nice vintage chairs on Craigslist or Facebook Marketplace. In fact, I've sold the chairs from two dining sets that I purchased and didn't need, and in both cases I ended up easily selling the chairs.
Reproduction Pieces
This category is strictly out of principle. I refuse to purchase something that is made to look vintage, or match a vintage style trend. I just won't do it. I wait to find the real thing, and often I end up spending less money than if I had purchased the new reproduction item.
Take my vintage wood letter board that I scored at an estate sale for $15.
Or my vintage scale that I found at a thrift store for $5.
Or my vintage metal pitcher I purchased at a garage sale for $8.
I can remember myself looking at a reproduction of each of these items in the store at some point in time, and walking away because I wanted to hold out for the real thing. It takes patience, but when you find that item that you've wanted and it truly is vintage and costs less than the new, fake version, it's worth the wait!
Where to find them:
You can find vintage items during any second hand shopping trip.  Prices totally vary on vintage finds, and I've really found no rule of thumb on the best place to score the best deals.  Sometimes, thrift stores and estate sales hike up their prices on popular vintage items, while other times I feel like I'm stealing walking out of the door paying the price that's listed. If I had to generalize, I'd say I most often find the best deals at flea markets and garage sales, but then again, plenty of dealers or home owners try to charge the price that you'd find in an antique shop. (If you're new to shopping flea markets, I've explained all my tips for scoring the best deals on home decor items!)
Chairs
I can't believe I once purchased chairs for $70 a piece. Seriously, I don't know what I was thinking. Those 4 chairs are long gone (because they started to fall apart), and the only chairs you'll find in our house now are beautifully crafted, gorgeous chairs that cost about $70 – for all of them! (You'll see most of them in my table photos above!)
What to look for:
Sit on them and make sure they are sturdy!
Seats that are intact (unless you're looking to repurpose it as a plant holder or can cut a piece of wood down to match the size of the chair frame)
Remember, you can reupholster ugly fabric on chairs very easily.
How much to expect to pay:
I've made a little deal with myself that I won't pay more than $5 for a chair. And although this isn't entirely true, it's generally my rule of thumb.
I promise, it's entirely possible to find sturdy, solid, vintage chairs for $5 a piece.
I once (nicely) told a lady at an estate sale that I couldn't pay $60 for a set of 4 gorgeous thonet, cane seat chairs because I always wait until I find chairs priced for about $5. She's in the second hand business, and she knew very well that it is quite possible to find chairs for that cheap, so she came down to $24 for all 4 of the chairs. Deal!
Where to find them:
Flea market vendors often have chairs priced very low, as do garage sales. Chairs at estate sales tend to be over-priced initially, but if you're willing to negotiate and ask for a better price, you can end up getting them for cheaper.
Pillow Inserts (stay with me on this one…)
Right, I know this one sounds a little sketchy. Let me explain myself here.  I'm a sucker for big, soft, feather filled pillows, but they are expensive. I can't bring myself to pay over $50 for a pillow that's going to get smothered by the dog every night.
What to look for:
I always take off the pillow cover to inspect the insert. I make sure it's clean without any stains, and does not have an odor.
How much to expect to pay:
I bought all of my down pillows for $3-5, including the large ones that are at least 20″ x 20″. Don't expect to find them at the first place you look – this one takes some searching, but it's definitely possible.  Now, whenever I find them at the right place I snatch them up. My dog says he can never have too many throw pillows.
Where to find them:
I've found my down throw pillows at a garage sale and two estate sales. This might sound awful, but the types of sales I buy these inserts from are clean, nice sales. You know, the types of homes that are bigger and cleaner than my own home. The types of owners who take care of their down pillows. After buying them, I remove the pillow covers and donate them. Then, I bring the inserts to the dry cleaner and come home with clean, soft, comfy pillows for way less than if I had bought them new. Way less, but just as comfy.
Light Fixtures
Hardwired fixtures, lamps, and pendant/lamp shades are all items I never buy new.  I always see complete light fixtures and lamps at thrift stores and garage sales. With a little bit of paint and fabric, you can give any light fixture a completely new look. I also always have my eyes peeled for items that can act as shade for pendant lights.  I've used vintage baskets and an antique egg crate as "shades" for pendant lights (I do sometimes need to buy the pendant cord fixture new, though, or I reuse an existing one, if I'm looking for a quick shade change.)
What to look for:
Newer wires (old light fixtures may need to be rewired)
Remember the power of paint! A can of spray paint can totally transform the look of a light fixture.
How much to expect to pay:
Expect a range in price here, depending on the style and type of light fixture you're looking for.
Where to find them:
I find the best luck with finding light fixtures at second-hand building stores, like Habitat for Humanity's ReStore. Most of the time, estate sales do not sell the hardwired fixtures in a home (unless it's a whole-house tear down sale, in which case you can purchase just about everything!). I also sometimes find light fixtures for sale at garage sales, too.
Little Accents and Accessories
This is probably my favorite thing to shop for second hand. It's amazing some of the interesting pieces sitting on the shelves and tables of thrift stores and garage sales. Quite simply, if I love it, and it's the right price, I buy it. I try my best to only purchase things that I already know where I plan to put them (or what seasonal box of decorations they will go in), but sometimes I am guilty of buying something that I just love but don't have the slightest idea what I'm going to do with.  Most of the time, it ends up being a wise decision and I find the perfect use for it. But, when that doesn't happen and it sits in my basement for over a year, I know it's time to resell it on Facebook or at our own garage sale.
Final Notes on Shopping Second Hand
As you're shopping second-hand, start taking note of the prices of items.  You'll start to see that prices vary tremendously, and when you do find a steal of a deal on an item, you'll know it as soon as you see it.  Don't forget to compare these prices with the new reproduction items you'll find at Target and Home Goods. You can most definitely find the real (vintage) deal for less than the cheap knock-offs!
I've put together my tips for shopping at flea markets to get the best deals on home decor items, and I'll soon have a post about shopping at estate sales as well.
Feel free to spread the word on these little budget-decorating secrets! I sure wish someone had told me about them when I bought my first home!!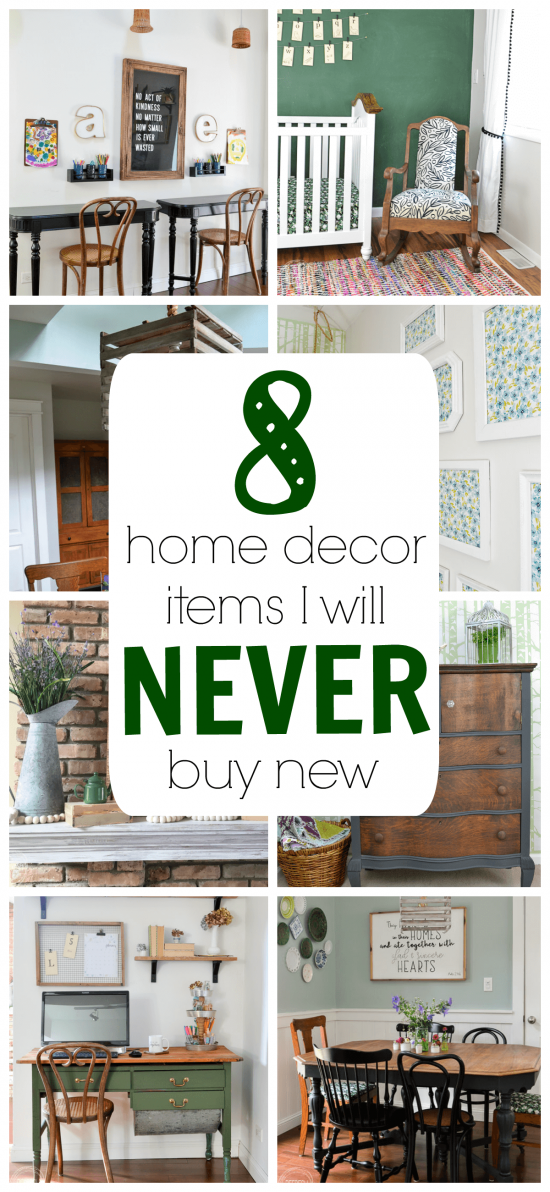 Like what you see? I'd love for you to follow along!
Sharing at these awesome weekly parties!

Join the Refresh Living DIY & Upcycling Community
Join the subscriber list to receive one to two emails per month with updates from the blog. PLUS, you'll gain access to my printables and graphics library. Every new design I create will be added here, and you'll have free access – forever!