Folding chairs are great for small spaces as they can be used for multiple needs. From dining to studying, a comfortable folding chair can be enjoyed anywhere and then tucked away for storage. Sleek folding chairs are a much better option than bulky wooden chairs in a space that is already short on storage. The folding feature also makes the chair easily transferable and portable. Depending on preference, one can choose between different materials for folding chairs, with plastic being one of the most popular material as it proves to be lightweight. Check out our recommendations below:

This reclining chair offers a wonderful place to sit and relax and would be perfect next to a pool or on a back deck or patio. This folding chair transitions effortlessly from an upright seated position to reclining one and will provide utmost comfort to the user. This chair features a lightweight yet sturdy powder-coated steel frame. Its double bungee support system runs up one side and down the other, securely connecting the fabric to the frame. The chair offers reliable support and can accommodate up to 198pounds.

The chair also features a weather-resistant Textilene fabric that offers comfortable breathability and ensures a comfortable, stay-cool seating surface that won't stick to the skin.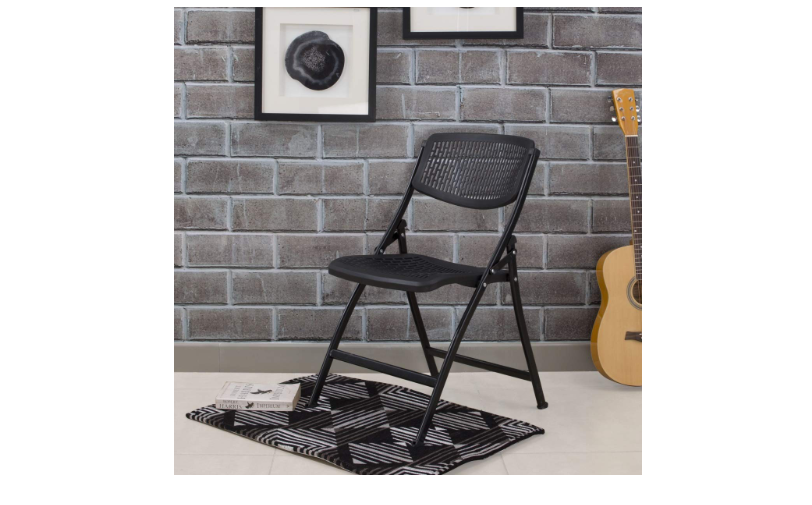 Add convenience to your home with this metal chair in black. Featuring a foldable design, this chair is easily portable and can be stored with ease when not in use. Ideal for use at breakfast tables or the dining table while hosting guests, this black chair will prove to be a comfortable option for varying needs. The mesh seating and backrest is soft and comfortable and will give a contemporary appeal to your home.

This chair has a PP bush attached at the legs that protect the floor from scratches.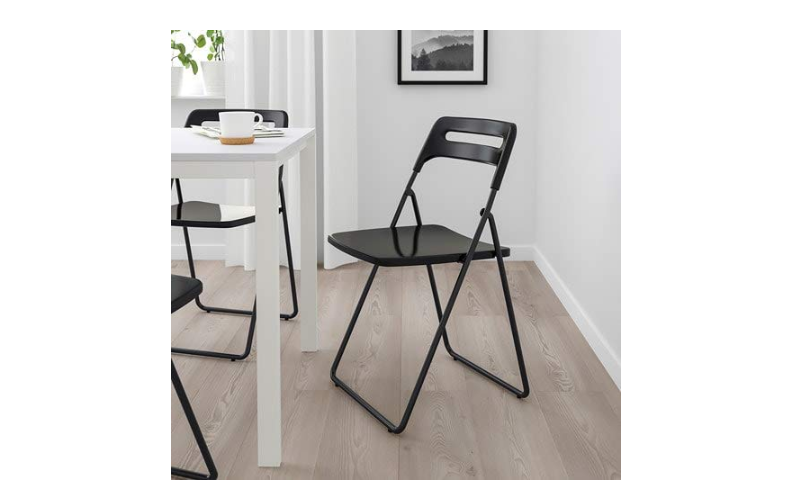 This lightweight chair in black will provide an easy seating option in a cramped area and will also be very easy to be store. The rectangular slot on the backrest can be used to mount the chair on the wall. The comfortable shape of the chair will provide optimum support to users.

The chair can be bought in quantity to create a portable seating space in the house.

This chair features the seat and backrest in plastic supported by a metal frame. This set is ideal for creating a small dining space in the house or the balcony. The chairs easily fold up and can be moved around depending on the individual's requirement.

The chair measures 32.6 inches in height.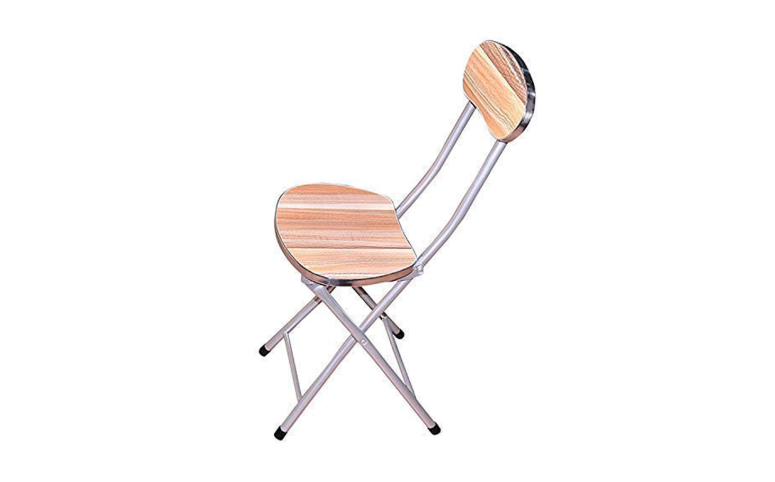 This compact chair features a wooden seat and backrest. The minimalist design of this chair will add beauty to your space without creating visual clutter. The chair can be paired with a mini table to create a space for dining and working.

A set of this chair would be ideal for creating a seating space outdoors.
DISCLAIMER: The Times of India's journalists were not involved in the production of this article.