The Department of Interior Architecture offers a robust and comprehensive interior design curriculum. Students can earn accredited professional degrees at the undergraduate or graduate level.
Interior architecture integrates critical analysis with creative thinking to revitalize, reuse, and adapt buildings to resonate with users and provide uplifting, healthy, and sustainable interior environments. Our students learn in a unique interdisciplinary environment that allows each person to fine tune their interests while gaining exposure to a broad range of issues that affect the interior environment. Graduates of the program are prepared to act as innovative problem solvers and influential space makers.
---
Collaborative and Creative Community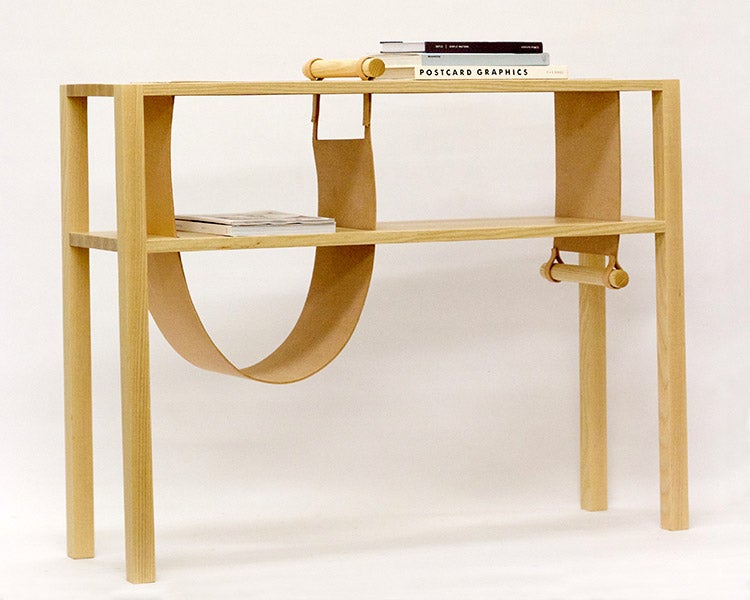 Interior Architecture faculty members work closely with our students to offer a broad range of design experiences while guiding each student to explore and develop individual interests. We emphasize collaboration in a noncompetitive but rigorous learning environment by encouraging a supportive studio culture that includes teamwork and peer critiques. The department doesn't dictate a specific design aesthetic or ideology for you to follow. Instead, we encourage intellectual inquiry as the basis from which you shape your own design path.
---
The Student Experience
Our graduates are broadly educated designers who attain leadership positions in the US and abroad. We are dedicated to recognizing designers' accountability for their impact on environmental, social, and cultural systems. We nurture future professionals by involving students in faculty research, internships, and mentoring relationships throughout the program. Our student organizations assume leadership roles in developing extracurricular programs and providing community service.
Tanika Krishan is a master's student in Interior Architecture. Originally from India, Tanika has made Eugene her home away from home.
---
Hands-on Environment
Our curriculum centers on the design studio, where you'll learn through hands-on experience. Students enrolled in studios are assigned their own workstation within a space dedicated to their studio group and available for use at flexible hours. Students often work together in courses and as collaborators with faculty members in research investigations through independent study courses. Our studios also take you outside the classroom, giving you applied research experience and opportunities to get involved in the community.
Faculty and reviewers, who are professionals in the field, review studio work using individualized discussions and written assessment rather than a traditional letter-grading system, so students can receive specific and constructive feedback about their work.
---
Enrich Your Academic Experience
Our degree programs offer students the flexibility to explore other programs in the College of Design, including but not limited to Architecture, Product Design, and the History of Art and Architecture. We encourage undergraduates to minor in another subject, and graduate students have the option to earn a concurrent degree (in architecture) or specialization.
Students can participate in focused Interior Architecture/Architecture study abroad opportunities in Italy, Denmark, Japan, and Finland.
Collaborations with other programs within the College of Design provide opportunities to engage in explorations that involve architecture, landscape architecture, planning, historic preservation, product design, art, and the history of art and architecture. Student led experiences abound in our school. Some examples include the:
Ecological Design Center hosting the Holistic Opportunities for Planet Earth Sustainability (HOPES) Conference each spring (2019 will mark their 25th year)
Center for the Advancement of Sustainable Living (CASL)
Research Interest Group (a RIG) known as STAnDD for Supporting the Advancement of Diversity in Design
---
Connect with Us
---
Learn More
Visiting the UO is one of the best ways to learn about us. Participate in UO's campus visit programs—Duck Days in the spring or Duck Preview in the fall—to tour facilities, see campus, and meet with faculty members or schedule a tour anytime.
---
Student Spotlight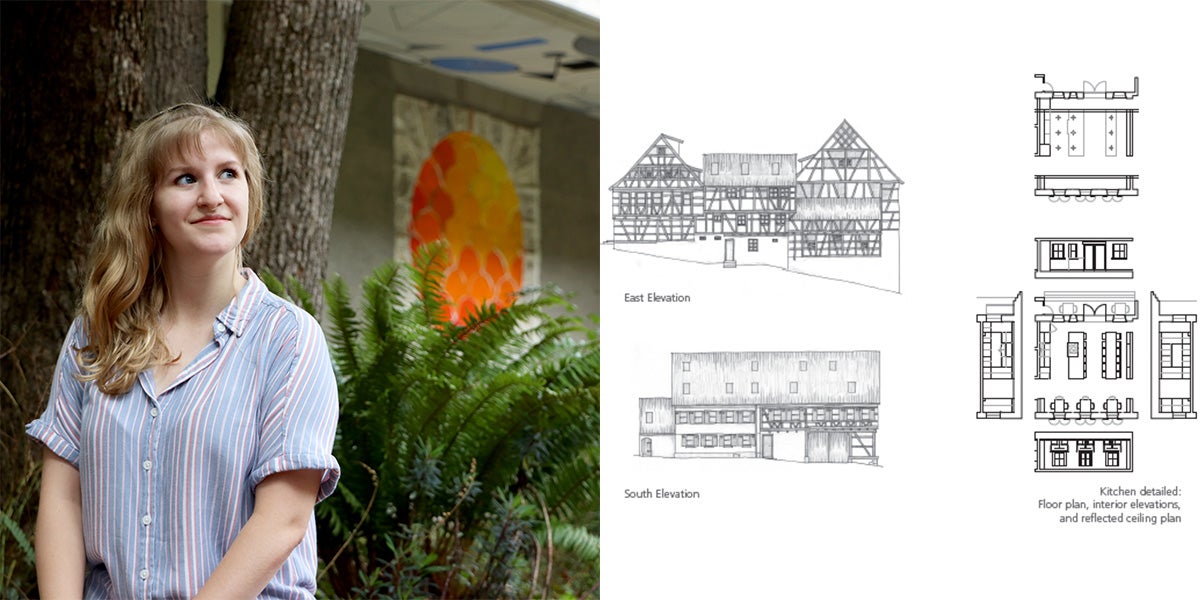 Vergillo in the Lawrence Hall courtyard; Vergillo's study that repurposed a 17th-century German homestead for the IARC 584 studio
Elizabeth Vergillo (MArch '19), a second-year Interior Architecture graduate student, discovered her passion for historic preservation this summer while interning at Anderson Hallas Architects in Colorado, where she focused on National Park and civic structures. "My interiors background was super helpful, from understanding finishes, which is a huge part of historic preservation, to having the right vocabulary," she said.
Vergillo, a Gunilla K. Finrow Excellence in Interior Architecture Scholarship recipient, was also a graduate employee for the interior architecture course Color Theory and Application for the Built Environment. "I had never lectured before. It was awesome to have that opportunity," Vergillo said.
Learn more about the Master in Interior Architecture Track I
---
Accreditation
Our Bachelor of Interior Architecture (BIArch) and Master of Interior Architecture (MIArch) programs are accredited by the Council for Interior Design Accreditation (CIDA) and the National Association of Schools of Art and Design (NASAD).
---
News
---
Upcoming Events