Interior design is the art of defining spaces that surround us, from the inside out. Whether within intimately small spaces or much larger schemes, within residential, commercial or work-related places, the interior designer must demonstrate the ability to adapt and develop, way beyond simple decoration, subtle design proposals both sensitive to context and responsive to complex constraints and specific requirements.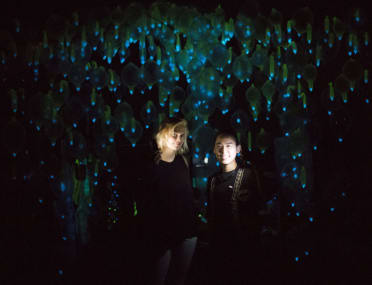 The Bachelor of Fine Arts Degree in Interior Design encourages a thorough yet versatile design approach, following systematic and coordinated methodologies. With an emphasis on Retail and Commercial Spaces, the program is intended for undergraduate students aiming to become professional interior designers specialized in retail, commercial, exhibition and event spaces. Inter-disciplinary in nature and structure, the studio and the classroom serve as complementary spaces for design thinking and creative expression as well as technical and professional skills development. The course builds up towards a final individual project which is presented before a panel of critics, followed by a 6-month mandatory internship and thesis. The significant studio practice and the plurality of choices offered by this program prepare graduates for immediate insertion into the interior design field in Paris and internationally, or for entry into specialized Masters degree programs. Set within the unique context of Paris, with its rich historical and cultural heritage, prestigious and innovative interior design concepts and renowned leading figures in the field, the school is an ideal setting to pursue the development of a clear and personal creative direction within this discipline.
What are the advantages of studying in Paris?
Paris, like New York, Milan, and London, is doubtlessly a capital that plays a key role in the world of interior design, as suggested by the many industry leaders who are based here. In addition, and contrary to New York, it offers a rich history of decorative arts and interior design, and students will have access to such archives as the Chateau de Versailles, the Museum of Decorative Arts, or the Mobilier National, a unique collection and center of contemporary creation dating back to the 17th century. Furthermore, the international dimension of both the city and Paris College of Art provides a unique platform for students who would aspire to experience an internship or work abroad.
Curriculum
Foundation
Drawing I
Materials and Dimensions I
City as Studio
Introduction to Digital Media I
Introduction to Art & Design
Critical Thinking & Writing I
Drawing II
Materials and Dimensions II
Introduction To Digital Media II
Artistic Migrations: Paris
Critical Thinking & Writing II
Sophomore Year
Project Fundamentals 1
Materiality
Project Communication 1
History of Architecture & Interiors
Liberal Studies Elective
Project Fundamentals 2
Architectural Components
Project Communication 2
Studio Elective
Introduction to Design Studies
Liberal Studies Elective
Junior Year
Project 1: Permanent Space Lighting Design
Alternatives in Project Communication
Studio Elective
Math/Science Elective
Project 2
Furniture and Display Design
Studio Elective
Art History Elective
Liberal Studies Elective
Senior Year
Team Project
Window Display Design
Project Management
Liberal Studies Electives
Studio Elective
Final Individual Project
Portfolio Preparation
Art History Elective
Liberal Studies Elective
Internship Year
Six-Month Interior Design Internship and Thesis