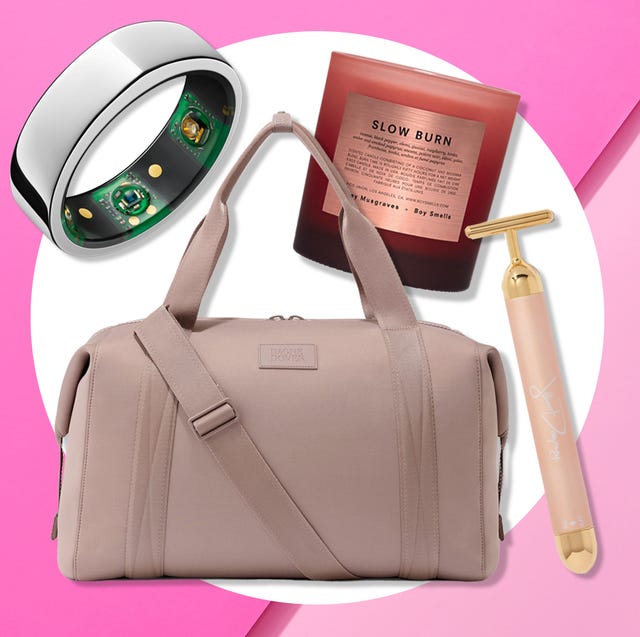 Christine Giordano
We get it — shopping for your girlfriend is hard. You want to get her something she can actually use, rather than something that collects dust around her house (or worse, gets regifted). That's why we've rounded up the best gifts for girlfriends, no matter what the occasion is. These gifts will become staples in her vanity, closet, kitchen, and elsewhere around her home, making you a serious MVP.
If you're trying to go ham on a gift for that big anniversary or milestone birthday, don't be afraid to invest in that $700 Dyson vacuum she's been eyeing or a $1,000+ custom Teressa Foglia hat–both obvious winners. On the flip side, there are some things you can buy that will be just as meaningful even though you didn't spend a ton of money on it. A month-long Masterclass membership is only $15 and will give her access to countless cooking, interior design, and photography lessons, among others. A $65 pair of sunnies from Dezi will become her new everyday go-to shades. It really is the thought that counts, and your girlfriend will always be appreciative that you put effort into finding her the perfect present.
Whether it's for a birthday, holiday, or a random "just because" present, skip the flowers this time and grab her one of these best gifts for girlfriends instead. They will be sure to put a smile on her face.
Advertisement – Continue Reading Below
1
Beauty
Hourglass Ambient Lighting Palette
If your girlfriend is looking for a complexion palette that can do it all, this is the one you should grab for her. It airbrushes skin so that it looks even in every kind of lighting, and can be used to highlight, contour, bronze, and blush the entire face. It's guaranteed to make her gorgeous glow even more beautiful.
2
Beauty
Deep Conditioning Treatment Hair Mask
She can never have too many hair masks. Trust. This brand draws inspiration — both in its packaging and product formulation — from the Arizona lifestyle, so its pleasant floral scent will transport your girlfriend to a desert oasis. It works with all hair types and is deeply hydrating thanks to moringa leaf extract, coconut oil, and jojoba seed oil to leave her hair silky and shiny.
3
Beauty
ZIIP Beauty Nano Current Device
Since it's likely that your girlfriend won't be able to get a professional facial anytime soon, why not bring the esthetician to her? This microcurrent device is a powerful one that offers different settings to sculpt the face. Microcurrent has a variety of benefits, from encouraging lymphatic drainage to killing acne-causing bacteria, so this gift will definitely be put to good use.
4
Beauty
Drunk Elephant The Littles
Whether she's interested in transitioning to a clean skincare routine or she's simply on-the-go all the time, she'll be happy to get these skincare minis from Drunk Elephant. The set includes everything she needs for her AM and PM skin routine. 
5
Beauty
DERMAFLASH 2.0 LUXE
Similarly to the Ziip device, this Dermaflash dermaplaning device is as close to the real thing as your girlfriend can get without seeing an esthetician or dermatologist in person. Dermaplaning is a great way to help even out her skin's texture, and she'll love adding this into her skincare regimen.
6
Beauty
Rose Gold Sensitive Skin Razor
For the girlfriend who craves a good shave and is eco-conscious to boot, consider gifting her one of Oui The People's safety razors. This will give her the closest shave without any irritation or risk of ingrown hairs.
7
Beauty
Victoria Beckham by Augustinus Bader Cell Rejuvenating
Who doesn't want to glow like Victoria Beckham? This priming moisturizer has a gorgeous golden tint that will set the base for her makeup or work as an illuminator on no-makeup days. She'll love having this multipurpose product in her arsenal for both special occasions and those "just because" days. 
8
Beauty
Vintner's Daughter Active Botanical Serum
This is definitely a pricey gift, but one that your girlfriend is sure to appreciate. This high-powered, cult-favorite serum is a multitasking product that hydrates, protects, and nourishes skin. Just a few drops will go a long way, so even if she uses it both day and night, it will last for months.
9
Beauty
Skin Fetish: Sublime Perfection Foundation
PAT McGRATH LABS
sephora.com
$68.00
If you're trying to get on your girlfriend's good side, gift her a Pat McGrath product. Seriously. This foundation will become her new go-to for all occasions, so she's sure to love it. Pro tip: To ensure that the gift really is a surprise, take a peek at whatever foundation she already uses and use Sephora's "Shade Finder" feature to pick the best match for her skin tone. 
10
Beauty
FENTY BEAUTY by Rihanna Match Stix Trio
Don't want to risk trying to find the perfect foundation match? Try these Fenty highlighting sticks instead. She can wear them as eyeshadow, bronzer, contour, or blush, and they blend easily on all skin tones. 
11
Beauty
HERMÈS Deluxe Replica Coffret Set
Trying to find a signature fragrance for someone else can be tough but it's still a gift worth giving, which is why this set of Hermés minis is the perfect compromise. With four scents for her to choose from she's sure to find at least one she loves (if not all of them). Not to mention the signature wrapping that will have her feeling special before she even opens the box.
12
Beauty
Coloured Raine Queen of Hearts
Your makeup-obsessed girlfriend likely already has a ton of eyeshadow palettes, but you'll be thrilled to know that it's totally possible for her to get by with just one. This neutral palette from Coloured Raine is so versatile with a gorgeous mix of matte and shimmer shades so she can take any makeup look from day to night.
13
Beauty
Jillian Dempsey Gold Sculpting Bar
Help your gal indulge in a little R+R with this vibrating facial massager. It's a great tool for helping her relieve tension from her face and will definitely become a staple in her beauty routine. 
14
Beauty
PATRICK TA Major Beauty Headlines Double-Take Crème & Powder Blush
Blush is arguably one of the most underrated and under-loved makeup products, so it's likely that your girlfriend doesn't have one that she's totally obsessed with. This blush duo from Patrick Ta's line is sure to change that. Available in four universally-flattering shades, pick out the one that best matches her natural flush for an everyday look. 
15
Beauty
La Mer The Concentrate
Anything La Mer is sure to impress, but this product will especially. Just a few drops of this super serum will calm any inflammation, even out textured skin, and boost her skin's brightness. It's sure to be a product she'll treasure for a long time — especially because she'll be using it sparingly.
16
Beauty
Dr. Barbara Sturm Face Cream
If your girlfriend has more mature or extremely dry skin, this face cream will become her new best friend. It contains a nourishing cocktail of antioxidant-rich and moisture barrier-boosting ingredients to keep her skin feeling fresh and bouncy. Since the OG formula tends to leave a slight white cast, the brand also has a version for darker skin tones.
17
Fashion
Blanka Gold Chain
blankaboutique.com
$36.00
This year's unexpected hottest accessory? The mask chain. Your girlfriend is wearing a mask anytime she goes outside, so why not help her do it in style? Blanka Boutique has a wide selection of different mask chains made of metal, acrylic, and other fabrics and materials. 
18
Fashion
Jaanuu Reusable Antimicrobial Face Mask
You can't gift her mask chains if she doesn't have masks to hook them onto. These antimicrobial masks are made from the same material as doctors' scrubs and help prevent the growth of mold and other bacteria. The neutral color will easily match any clothes in her wardrobe. 
19
Fashion
Kitsch Rhinestone Stacker Set
Hair accessories are having a serious moment, so it's likely that your girlfriend's collection is already growing. Add some more flair to it with these fun rhinestone pins from the most recent Kitsch x Justine Marjan collection. They're the perfect addition to any hair look to add just a little bit of glam, even if she's going on her third straight day in the same sweatsuit (same).
20
Fashion
Cult Gaia Astraea Bag
Every girl needs a subtle statement bag that she can dress up or down depending on the occasion. The Cult Gaia Astraea Bag is exactly that. It has a structural look thanks to its angular handle, but the slouchy body of the bag gives it a more casual feel. She can wear this anytime, anywhere, and it'll be a staple in her closet for years to come. 
21
Fashion
Steve Madden Rouge Grey Snake Boot
As fall and winter quickly approach, your girlfriend is probably looking to invest in a few more pairs of boots. These gorgeous snakeskin-printed knee highs are great for pairing with jeans, a dress, or any other outfit she can dream up. ICYMI: Animal print is a neutral.
22
Fashion
Aritzia Cowl-Neck Slip Dress
Shopping for clothes can be a bit tough since every gal has her own unique style, but you can't go wrong with a basic slip dress. This midi-length cowl neck piece is sophisticated and fashionable, and can be paired with any of the blazers, heels, and other pieces in her existing wardrobe.
23
Fashion
Teressa Foglia Daisy
teressafoglia.com
$1,350.00
If you're trying to go all out with an accessory as a gift, it really doesn't get any more luxurious than a Teressa Foglia hat. The Brooklyn-based milliner handmakes each hat to order, making each one unique and special for the owner. This hat has daisies embossed into the brim with crystals in the center. It's a statement piece that she'll treasure forever and only gets better with age.
24
Fashion
Got Some Sleek Moves White Sleeveless Bodysuit
Your girlfriend can always use more basic layering pieces in her outfit (hey, we don't make the rules!), so consider grabbing her this bodysuit. It comes in three neutral colors that will easily match the things she already has and is made of a soft cotton that she'll want to pull on again and again. Bonus points if you get her more than one color.
25
Fashion
Dezi Sunglasses
Influencer Desi Perkins' new line of sunglasses are so chic, your girlfriend will feel so glamorous wearing a pair of them. These angular cat-eye shades can work for any occasion, and the tortoise acetate frames are easy to match with any of her clothes.
26
Travel
CalPak Hue Carry-On Luggage with Pocket
Your girlfriend probably won't be traveling anytime soon, but it doesn't mean that she can't stock up on chic travel goodies now. Calpak makes some of Instagram's favorite luggage, and these hardshell carry-ons from their Hue collection are so photogenic. The front pocket is perfect for slipping her laptop in, and the colors will ensure that all eyes are on her as she walks through the terminal.
27
Travel
DAGNE DOVER 365 Medium Landon Neoprene Carryall Duffel Bag
While you're stuck quarantining, the two of you might want to take a weekend away for a little break. This duffel from Dagne Dover is the perfect size for just that. It's all tricked out with the features: a water bottle pocket, a padded laptop sleeve, a couple secret zippered pockets, a key leash, a separate pouch for shoes, and much more. When she's not on the road, it works as a gym bag, too. 
28
Travel
Modern Picnic The Luncher
We're calling it now: Picnics are the new date nights. There's no reason for your girlfriend to pack a picnic in that plastic grocery bag. Instead, gift her this beautiful bag made by Modern Picnic that looks like a fashionable purse on the outside but has all the functionality of an insulated lunchbox on the inside. It comes in a ton of different colors for her to choose from.
29
Travel
AirBnB Gift Card
Let's face it — this gift is just as much for you as it is for her. The two of you deserve a little break, even if it means just a staycation in your city. An Airbnb gift card is the perfect gift so that she can pick out a place for the two of you to escape to (responsibly, of course).
30
Travel
Moleskine Passion Journal
While it's not possible for her to travel right now, it doesn't mean she can't daydream. This passion journal from Moleskine will help her plan all of her future travels and reflect on adventures past.
Even if she's not working in an office right now, this work tote from Beis has so many uses. It's incredibly spacious so she can go from work to meetings to a night out all with one bag (when it's safe to do so again). It comes in two neutral colors so she can bring it with her no matter what she's wearing. It also has a trolley sleeve on the back.
32
Home
cb2 Onyx Raw Edge Bowl
This beautiful onyx bowl will look beautiful no matter where your girlfriend puts it in her home. It's a statement piece that feels so elegant and classy, with a bit of grit due to its raw edges.
33
Home
Flower by Edie Parker
edieparkerflower.com
$450.00
Regardless of whether or not your girlfriend smokes, this piece is definitely a conversation starter that will look beautiful in her contemporary home. This piece is intended to light joints (where marijuana is legal), but is great for lighting candles and incense, too. 
34
Home
The Sill Gift Card
If your girlfriend has a green thumb, The Sill gift card is sure to make her smile. She can pick out different plants to add to her ever-growing collection of plant babies, or she can stock up on planters for her next trip to her local nursery. 
35
Home
Urban Outfitters Femme Wall Hanging
urbanoutfitters.com
$18.00
This gold wire piece is whimsical but still sophisticated, and works well in a variety of interior design styles. Whether she uses it as jewelry storage or just as wall art, it's bound to make a statement.
36
Home
Dyson V11 Torque Drive Cordless Vacuum
Nothing will get your girlfriend more excited to clean her house than a Dyson vacuum. This machine effortlessly vacuums the highest pile carpets, tile, hardwood, and any other messes she makes around the house. 
37
Home
Boy Smells Slow Burn Candle
Kacey Musgraves created this candle in collaboration with Boy Smells looking to recreate the feeling of her song "Slow Burn." The candle — in gorgeous rosy packaging, no less — has notes of incense, black pepper, elemi, guaiac, raspberry, tonka, amber, and smoked papyrus to help bring a moody vibe into your girlfriend's home. 
38
Home
Adbeel Floor Full Length Mirror
Your girlfriend probably already has a full-length mirror, but she may not have one as pretty as this. The gold frame and arched top make this mirror a statement piece that she'll gladly set up in any room.
salamatceramics.com
$58.00
This gorgeous donut-shaped vase from Salamat Ceramics will have your girlfriend saying "salamat" (which means "thank you" in Tagalog). It comes in three different neutral colors so you can pick the one that best fits her home's color palette, and is perfect for displaying the flowers you get her… wink wink. 
40
Home
JONATHAN Y Stephen Metal LED Table Lamp
bedbathandbeyond.com
$74.89
Whether she needs it for her WFH setup or needs something cute on her entryway, this table lamp by Jonathan Y is super versatile. The shiny gold is eye-catching but still neutral, and the marble base is both trendy and subtle. 
41
Home
Murano Style Glass Mushroom Vase
ellajanevintage.com
$120.00
If your girlfriend's taste leans a little more mid-century, then you absolutely have to find her a Murano glass piece. This fun vase is whimsical and elegant all in one, and it's sure to bring a smile to her face.
42
Pets
Wild One Harness Walk Kit
wildone.com
Your girlfriend deserves to have a furry BFF as fabulous as she is. This chic harness and leash set from Wild One will instantly make her pup or kitty the most fashionable on the sidewalk. It comes in seven colors and three sizes so you can find the perfect fit. 
43
Pets
Genius Leather Dog Collar with Name Plate
Personalized mementos always make great gifts, and including her doggo in your gift giving is so thoughtful. This leather collar can be personalized with the pet's name and other information, making it the perfect two-in-one for her four-legged friend. 
44
Pets
Reddy Ice Black & Grey Double Dinner Bowl
Who says pet supplies can't become part of home decor? This double pet bowl setup is so chic, it'll effortlessly blend into your girlfriend's home. 
twotailspetcompany.com
$20.99
While an average paw-shaped name tag is definitely cute, this ID tag is even better and makes for a cute and kitschy gift for your girlfriend and her pet. It has a cute "hello my name is" name tag printed onto it so her pet can make all the friends on its walks. 
46
Pets
Steel + Leather Pet Food Storage Container
Like the pet bowls, storage for pet food doesn't have to be an eyesore. Elevate your girlfriend's home with this stylish container. It has leather straps both for the top and as the holster for the built-in scooper, and comes in three different sizes to accommodate any pet. 
47
Entertainment
Disney+ Subscription
Are you the kind of couple who constantly finds yourselves rewatching Marvel, Pixar, and Star Wars movies? Then you should definitely look into gifting your girlfriend a Disney+ membership. She'll have a year's worth of binging all of her childhood favorites — and as long as you bring the popcorn, you're obviously invited, too! 
48
Entertainment
Masterclass Gift Card
A Masterclass gift card is a great gift, especially since your girlfriend is spending so much time at home right now. She can take cooking classes, become a master interior designer, pick up photography, and so much more. It's a gift that has so many options, and she'll be excited to learn a new skill. 
49
Entertainment
Vintage Marble Chess Set
Looking for ways to switch up game night? Chess is a fun game to play as a couple, especially because you can always leave it and come back. Whenever you're not playing, the marble chess board makes for a gorgeous centerpiece on her coffee table. 
50
Entertainment
Nikon Z50 Mirrorless Digital Camera
If your girlfriend is into photography, vlogging, or just wants to have an easy, high-quality camera to document all the mems, this mirrorless camera from Nikon is the way to go. It's an entry-level camera with all the quality of a big DSLR. She can easily travel with it in the future, and for now, it'll be great for snapping pics of you and the rest of your quaranteam.
51
Wellness
Aman Nourishing Coconut Milk Bath
 Since you won't be able to take a vacation or spa day anytime soon, try bringing the spa to her. This coconut milk bath from five-star hotel group Aman's in-house line will give her the luxurious spa experience she's been craving. Encourage her to light a candle and sink into a milky, therapeutic bath that will leave her relaxed and her skin silky soft.
52
Wellness
Golde Pure Matcha
golde.co
Your girlfriend probably isn't going out to coffee shops as often as she normally would, so bring the café to her with this matcha powder from Golde. The Japanese-sourced product can help her make all of the matcha lattes she's been dreaming of. 
53
Wellness
Olly Undeniable Beauty Supplements
These supplements from Olly will help your girlfriend look and feel her best. Packed with biotin, vitamins C and E, and keratin, these multivitamins are meant to help strengthen her hair, nails, and skin so she can come out of quarantine feeling fabulous. 
54
Wellness
Wolf Gourmet Blender
williams-sonoma.com
$599.95
This blender is certainly an investment, but it's the perfect gift if your girlfriend is always going on smoothie runs. Made by Wolf Gourmet, it's a high-powered machine that works for smoothies, purees, soups, and anything else she's working on in the kitchen. It's a blender that will last her a lifetime.
55
Oura Ring
Wearables can be clunky, but the Oura Ring is so sleek and barely noticeable. It helps track sleep, heart rate, and more, all through tiny sensors. She'll feel like the most fashionable, high-tech girl around.
This content is created and maintained by a third party, and imported onto this page to help users provide their email addresses. You may be able to find more information about this and similar content at piano.io
Advertisement – Continue Reading Below