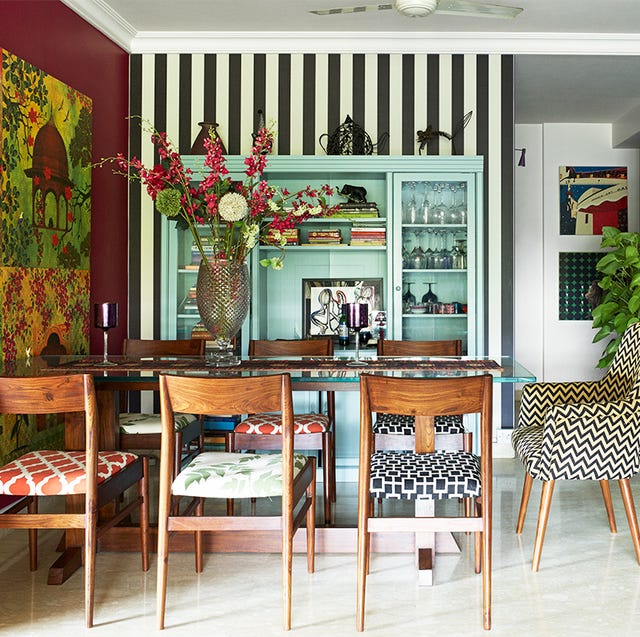 Bjorn Wallander
Calling all free spirits… Whether you're obsessed with layering textiles or simply into the cost-effectiveness of shopping vintage, bohemianism—the unconventional, artistic lifestyle that dates all the way back to the 1800s—can become your home's calling card. And though you may associate bohemian design with kitschy, over-the-top color schemes, materials, and prints, it actually has a ton of range. The only real rules of boho decorating are to be yourself, get scrappy, and relax. So if you're already a boho enthusiast or you're just putting out feelers, find inspiration in these stylish designer spaces and add bohemian flair in every room of your home. Patterns, plants, warmth, and eclectic accessorizing coming right up.
1 of 30
Say Yes to Suzanis
"All the color and pattern really make the guest room pop," says Betsy Burnham of a California retreat. The vintage suzani headboard and Moroccan rugs give it an authentic bohemian vibe. And, if you don't want to upholster a headboard, simply hang a textile behind the bed.
2 of 30
Get Inspired by Nature
Designed by Studio Razavi, this eclectic Parisian apartment is a breath of fresh air. Not only does it prove that you can use a wallpaper mural in a minimalist environment (the grayscale color palette helps), but it's also the perfect example of how to design a living room that's both fun and relaxed, sophisticated and formal. The key? Seating needs to be comfortable, and materials need to be casual but clean.
3 of 30
Use Soft Materials
You know you've nailed the boho look in a bedroom when the mere sight of it makes you want to jump through the screen and cozy up in bed. In this case, that's thanks to the soothing neutral color scheme and soft, plush textures throughout.
4 of 30
Stay Grounded
Since boho chic style is defined by laidback living, ground seating, lived-in linen fabric, and low-hanging vintage pendants will set the mood perfectly. In this hangout space designed by Robert McKinley Studio, the lime wash paint finish and earthy green color take things to the next level, as does a quirky accent rocking chair.
5 of 30
Stick to One Color
Cool blues can feel bohemian when mixed with natural textures, like the woven chairs, pendant, and shades in this dining room by Colleen Bashaw. The wallpaper fits the theme too; the Brett Design pattern depicts large knit stitches.
6 of 30
Keep It Neutral
Bohemian design doesn't have to scream with loud colors and wild prints. This living room, for example, shows tons of restraint while still incorporating greenery and natural materials. The organic vases on display and natural stone tables also reflect the perfect balance between laidback, bohemian living and sophisticated style.
7 of 30
Tent a Room
This eclectic home designed by Sean Scherer is a treasure trove of antiques, whimsical fabrics, and cheeky decor. This guest bedroom is a perfect example, and such a fun mix of styles. It's a more classic take on bohemian living, with plenty of retro floral prints and upholstery throughout. The vintage curtains were stretched and hung from wooden rods, then attached to the walls and ceiling to create a fantasy space. "You really do feel like you're inside a floral tent," Scherer says.
9 of 30
Mix Lush Patterns
Swirling grays and whites bring a soothing ethos to this bathroom designed by Colleen Bashaw. The Cole & Son Palm Leaves wallpaper echos both the mosaic on the floor and curvy accent chair while also bringing a lush plant motif to the mix.
10 of 30
Go Thrifting
Designer Jonathan Berger embraced eclectic design in this brownstone bedroom. He found the suzani on eBay, and the curvy Venetian-inspired headboard is covered in Nouvelle Orleans, a cut velvet from Clarence House that resembles ironwork but, of course, is much softer to the touch. The antique Napoleon III rope ottoman covered in an Aubusson tapestry adds a French country chic feel, and all together, it's a nice balance between polished and boho chic.
11 of 30
Repurpose Items
Heidi Caillier enhanced the hygge factor with a sheepskin rug, whimsical prints, and eclectic furniture in this bohemian sitting room. A vintage trunk repurposed as a side table, rattan frames for seating, and a sheepskin throw are always a good call when it comes to bohemian decor.
12 of 30
Take It Outdoors
When in doubt, add more pillows! Especially in a lounge area meant for relaxing in the sun. Tons of pillows in vintage textiles cozy up an Indonesian daybed outside of a Los Angeles home. Betsy Burnham covered the seat cushion with Great Outdoors' Fresh Canvas.
13 of 30
Don't Try Too Hard
Large-scale line drawings are so simple, and you can style them with just about anything. The abstract look and neutral color palette allows for the oversized format in this layered living room designed by Leanne Ford Interiors. The simply draped blanket and rug over the arm chair is another classic bohemian move.
14 of 30
Give It a Modern Spin
For a more modern, tailored take on the boho chic look, use this sitting area by Romanek Design Studio as inspiration. The large eye-catching, portrait fills the space with florals—a classic bohemian touch—but in a much edgier, graphic way. The stack of books propping up flowers, low-to-the-ground tables, and a grownup, sophisticated version of a beanbag chair seal the deal.
15 of 30
Rethink the Gallery Wall
Fringe, tassels, and prints: Colleen Bashaw, cofounder of Anthropologie, checks off all the boxes with this girl's bedroom in a New Jersey beach house. "It felt cozy," she says, "To do pattern on pattern, texture on texture." And instead of a regular gallery wall, try it with woven-framed mirrors.
16 of 30
Opt for Poufs
A big ingredient in the boho chic recipe is staying low key and grounded, which you can accomplish with the right accent seating. Instead of angular, modern chairs, opt for soft, textured poufs like Romanek Design Studio did here.
18 of 30
Add a Graphic Accent
Get the eclectic look you're striving for by taking a page out of Krsna Mehta's design book. A motley collection of flowers, patterns, and artwork decorate an a colorful dining room. You'd never believe this 1,100-sqaure-foot apartment was a sterile white box before he gave it the royal bohemian treatment. The stripes are a fun surprise, too.
19 of 30
Channel California
"The reason I love pampas is because of its neutral, earthy color. I don't work with dyed or faux florals. I rarely pair them with other florals," designer of this living room, Corinne Mathern says. These attributes make it the perfect accent for a bohemian living room.
20 of 30
Don't Be Cold
Karen Vidal didn't want a cold, angular bathroom for a California home, so she warmed up the suite with colorful cement tiles and a cozy seating nook. The bench even has a hidden space underneath for towels.
21 of 30
Frame Botanical Prints
Working with just 650 square feet, Schuyler Samperton transformed a Miami Beach pad with versatile furniture and indoor/outdoor fabric. "There's nothing too serious or precious here," she says."It's all about kicking off your flip-flops and relaxing."
22 of 30
Incorporate Metals
Incorporate structural elements like a metallic Brutalist wall sculpture and lucite or glass lamps in a bedroom to add dimension and intrigue. In this one designed by Kelly Hohla, the layers of textiles keep things soft. And of course, the playful wallcovering is itself a work of art.
23 of 30
Hang Plants
Boho queen Justina Blakeney dubbed her Moroccan-inspired living space "Bluhemia" after wallpapering it with a teal pattern she designed for Hygge & West. A faux sheepskin from Target adds texture.
25 of 30
Feature Fun Lighting
Pops of gold and green make this Justina Blakeney bedroom fit for a king or queen! The cover at the foot of the bed is a vintage Moroccan wedding blanket, and the rug is part of her collection for Loloi.
26 of 30
Transform a Hallway
Even a narrow hallway can be bursting with bohemian style. Just take this one by designer Dee Murphy for example. The cheerful wall hanging captures the eye and accentuates the length of the space, as do the antique rugs.
27 of 30
Make It a Hideaway
What could have been a cramped attic became a dreamy two-level bedroom thanks to Katie Maine's creative interpretation. Brunschwig's Bombay wallpaper covers the sloped walls, and a Moravian star lantern graces the canopy bed for a teenage retreat adults would envy.
28 of 30
Add Texture to the Walls
Introduce nature and texture to any room without taking up space with wood paneled walls. This space-saving trick is designer-approved. Then layer on the comfy pillows, throws, and rugs.
29 of 30
Display Tiles
Colorhouse's Clay .07 graces the walls in Sara Bengur's apartment. The dusty pink sets the stage for a 19th-century Indian inlaid trunk that does double-duty as both a coffee table and storage. The color-block kilim pillows, handwoven in Turkey by female artisans, come from the designer's shop.
30 of 30
Go Bold
Warm hues usually reign supreme in boho rooms, but this bedroom proves that black and white can fit the bill, too, when styled right. Pops of pink and orange along with the of animal motifs on the bedding help warm things up and add a more playful touch.
Advertisement – Continue Reading Below
This content is created and maintained by a third party, and imported onto this page to help users provide their email addresses. You may be able to find more information about this and similar content at piano.io
This commenting section is created and maintained by a third party, and imported onto this page. You may be able to find more information on their web site.