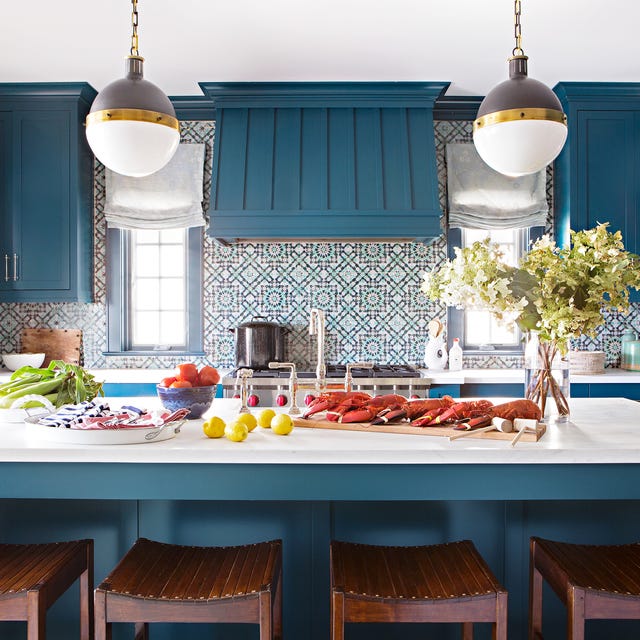 Karyn R Millet
We've said it before and we'll say it again: If windows are the eye to a home, then window treatments are the eyebrows (i.e. the unsung heroes of design, framing the entire space, controlling light filtration, and enhancing privacy). And while curtains and shades may not be the first things that come to mind when decorating a kitchen, they're serious game-changes. So to put the spotlight on this oft-overlooked step, we curated twelve kitchen curtain ideas below. Keep reading for well lit and stylish kitchen curtain inspiration.
1 of 12
Semi-Sheer Shades
In a monochromatic kitchen, opt for grayscale Roman shades, like Jeff Andrews did here (these are better above a countertop workspace, where full-length or tie-back curtains are a recipe for disaster maintenance-wise). The black trim sharpens up the entire space.
2 of 12
Floor Length Sheers
In an open floor plan space like this one by Danielle Colding Design, where the kitchen, dining, and living areas all share one room with large windows, floor length sheers are a good call. This will allow for some privacy and light filtration while still accommodating all the various use cases of the space. Plus, it gives you extra motivation to keep the floors squeaky clean.
3 of 12
White Shutters
Equal parts modern and farmhouse-chic, this kitchen by AP Design House is the best of both worlds. For a timeless, simple, and versatile window treatment that doesn't involve any fabric, opt for white shutters.
4 of 12
Neutral Linen Shades
Heidi Caillier used the same neutral linen Roman shades for the kitchen window and breakfast nook window, establishing visual flow and cohesion between the two spaces.
5 of 12
Printed Fabric
Choose a fun fabric to breathe extra personality into your kitchen. Here, Anna Spiro opted for a tight navy and sky blue print to reflect the cheerful color scheme.
6 of 12
Woven Shades
This kitchen corner sink by Reath Design is beyond dreamy, from the moody gray marble sink to the exposed brick and terra cotta tiles. The woven shades allow just enough light to peek through, emitting a soft flow throughout the space. And curtains aren't just for your windows, either: the designers hung curtains to create extra storage under the sink.
7 of 12
Ruched Roman Shades
The ruching along with the bows atop the pale blush pink curtains assert an extra dainty and polished touch in this romantic deVol Kitchen. When choosing your kitchen curtains, choose a color and fabric that casts the right light (in this case, the pink allows for a nice rosy radiance.
8 of 12
Matching Shades
Matching green and white curtains and dish towels in this small kitchen by Danielle Colding brighten up the entire room. They also embolden the laminate countertop, making it feel more fresh and intentional.
9 of 12
Classic White Shades
Paint the interior window casing black for a graphic pop without having to search for speciality shades. In this kitchen in the Firehouse Hotel designed by ETC.etera, the classic white shades and mirrored tile backsplash keep the space bright and open.
10 of 12
One Shade Across Two Windows
Stretch one shade across two windows for a less busy look in a smaller galley kitchen (especially if your curtains feature a bold print or bright color). In this city space designed by Heather Hilliard, privacy is key, but the shades also pack more punch and enhance the blue decor throughout.
11 of 12
Half Curtains With Hooks
Hang a piece of fabric over half of your windows. Use hooks to adjust your curtains easily and for a laidback look. This space by Reath Design was inspired by Georgia O'Keefe's kitchen.
12 of 12
Bare
So now you've seen all your kitchen curtain options, but keeping your windows bare is also perfectly stylish and functional in the right environment. In this bright and modern California kitchen by Romanek Design Studio, the serving windows look beautiful (and more functional) left bare.
Advertisement – Continue Reading Below
This content is created and maintained by a third party, and imported onto this page to help users provide their email addresses. You may be able to find more information about this and similar content at piano.io
This commenting section is created and maintained by a third party, and imported onto this page. You may be able to find more information on their web site.